Pet Photos at the Fair!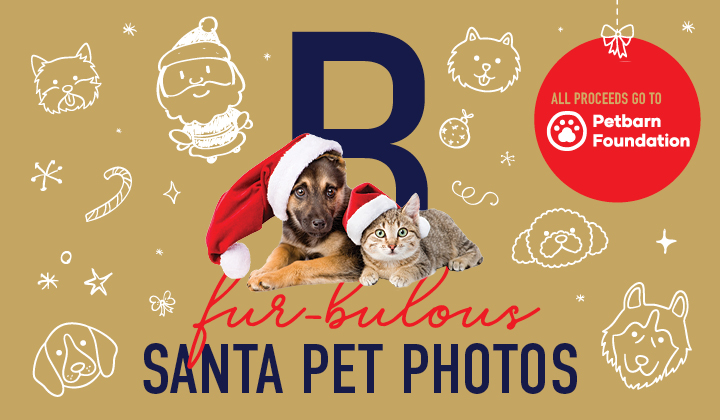 Bring in your beloved fur baby to join the family photos!
Pets are a part a huge part of our lives, so why not include them in your family's Santa photo!
Santa will be visiting Petbarn Booval on the following dates and times:
Saturday 27 November: 11am to 1pm – SOLD OUT 
Sunday 28 November: 11am to 1pm – SOLD OUT 
Thursday 2 December: 5:30pm to 7:45pm
Thursday 9 December: 5:30pm to 7:45pm
Bookings are required! Call Petbarn Booval on 3181 3264 to secure your booking.
Photos are $10 and all proceeds from the photos go towards the Petbarn Foundation.
The Petbarn Foundation was established in 2012 as the corporate charitable arm of Petbarn offering support for animal welfare groups, pet-related charities and the people who dedicate their time and effort into caring for pets in need. To read more about this amazing organisation and see the positive impact they are making in the community, click here. 

FAQ! 
Is my pet welcome?
All vaccinated and toilet trained pets are welcome, with the exception of reptiles or large and ill-natured animals that could harm a person or other animal. If you are unsure please contact Petbarn on 3181 3264. Please be mindful of the environment you are bringing your pet into and how your pet will interact with other animals or people present on the day. If you feel that your pet will not behave or be upset by surrounding animals or people, we ask that they re-think bringing your pet to the centre.
Restrained?
Yes, all pets are to be restrained at all times on a lead, or in an appropriate carrier. Pets may be presented out of their cages or off their leashes in the photography area only. No pets will be allowed inside the centre, before or after your photography session.
Do I have to bring anything?
Pets do sometimes have accidents, please bring appropriate equipment to clean up any accidents your pet may have.
Where do you go?
Whilst we love your fur babies and welcome them to the centre for the Santa Pet Photo, the centre remains a pet free zone. We, therefore, ask all customers who bring pets to stay in the Petbarn store with their pets. There's plenty of parking out the front of Petbarn so you shouldn't have to walk far with your furry family member.